Saturday, August 13, 2011
Day 2 Lima
Fab7 Lima, Day 2
The actual Fab7 doesn't begin until next week, but the activity surrounding the FabLab Lima is incredible.

Located as we are in the lower level, we don't see all of it, but visitors come by on a regular basis…from visiting dignitaries to students from other Universities.

If watching the ShopBot plane the sacrificial board is fascinating, watching your own name cut out is fabuloso, estupendo!
In addition to the Electronics and Digital Fabrication Labs, parts of the School of Architecture itself are getting a facelift. Notably, the restroom facilities have a new coat of paint and organization.

And, they need new signs.

So, several of the regulars got a chance to play with the PartWorks software to design their part files.

After giving them a few hints, I left them to it, and was rewarded with peals of laughter as they worked their way through the CAD/CAM program.
It's easy for me to think that it's all about ShopBot, but we are just a small part of the effort that is going into this.

Other works stations (electronics, molding, laser cutting, even (gasp) another CNC machine, are coming into being. Computers need to be set up, sponsors are setting up their booths, décor has been fabricated and is being put into place.

Victor Freundt, Beno Juarez, and Karin, organizers, are in constant contact with other universities and officials to promote the idea behind FabLab. Friday night, Sherry Lassiter and several of the MIT grad students and I were invited to dinner with Jaime Serida Nishimura, Dean, and Santiago Roco, Professor of Economics, of the Business School at ESAN University in Lima.

The main topic was innovation, and how to foster it.

And then, how to manufacture the ideas that may come of the community created by FabLab.
In the meanwhile, there is much to celebrate that is not digital fabrication.

Carlos "Pedrero", sculptor, borrowed my camera to take videos and pictures of a weaver who is treasured for his techniques.

And, dinner last night was next to an even older treasure, the huaca made of adobe bricks that is thousands of years old.
FabLabbers from around the world are beginning to arrive.

I have heard stories from the MIT graduate students about their adventures setting up labs in Africa and India, and am looking forward to meeting some of the people from those Labs.

Last night, I talked with Jens, from Norway, who is travelling the world to visit the FabLabs, and see how each Lab uses their equipment. Our conversation included physiological indications of stress level, and how to create a friendly device that would monitor stress levels and help a person regulate their own heart rate.

And, he also wants to surf while in Lima.

His friend from Iceland thinks having a ShopBot to create surfboards in Iceland would be a great idea.

ShopBot is also posting the blog with pictures...www.shopbottools.com
10:56 am edt
Friday, August 12, 2011
FAB7...Day 1
A fortunately series of events lead me to meet Nadya and Kenny from MIT in the elevator, so I didn't have to brave my way to the School of Engineering via the crazy bus system (50+ independent bus companies, small bus, one driver threading his way through traffic, one assistant hanging out the window with a sign indicating their direction, a bus stop any place in the right two lanes of traffic), or fall prey to the conniving desk clerk who wanted to charge my room 45 soles for a 10 soles taxi ride. Lima is amazing...street stalls hanging with (I hope) freshly killed chickens, fruit, and the soles of shoes waiting to be fabricated to fit your feet. A whole part of town devoted to the sale of toilet paper. Last night, we had dinner next to a pre-Incan ruin in the center of town.
The FAB7 is taking place at the School of Architecture, a brick and glass enclave, complete with Peruvian totems, nestled against a hill side of dirt and shanties. Victor, Beno, Karen and many many others have created a light-filled electronics lab and a white and clean feeling digital fabrication lab out of two storage rooms that had been filled with 50 years of furniture, debris and dust. In three weeks!!!
The ShopBot was up and wired, so we spent the day grounding and putting on the support board. People are SOOO EXCITED about it that, as soon as I started moving it around, 2-3 people came in to watch. Then, they went and got 10 more people, so I switched to showing them the software. Then, they went and got 10-15 more people. So, the maiden test was in front of 30 people. Needless to say, we had issues, but they did get to see it move a bit before we sent them away while we worked on it. By the end of the day, we were able to surface the table, and use the Bot to countersink the holes for the support board. Manuel and Gina were so excited that they were dancing every time they started a part file. Even Julio, who can't speak a word of English, willingly vacuumed and swept when needed, then quietly grinned the biggest grin you have ever seen when he was asked to run the ShopBot.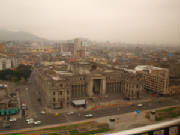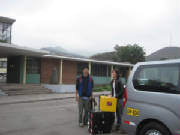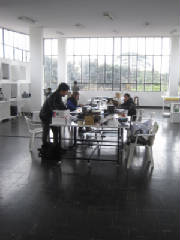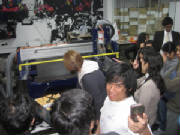 11:03 am edt
Thursday, August 11, 2011
In Lima Peru for Fab7, a FabLab experience
I arrived in Lima, Peru late in the evening Aug 10. Fortunately, I got the green light at customs, and so didn't have to explain why I was carrying electronics and router bits and screws into Peru (in addition to flour and sugar and chocolate chips.) I was most happy to see the Fab7 sign in the throng of people greeting the arrivals. Victor and Manuel seemed amused at my questions>>>what are those little red vehicles that look like delivery carts? little taxis, don't you have those in the US?
The Sheraton is across the street from the Palacio de Justicia, so this morning, I saw them roll out the red carpet (literally) and a street demonstration get organized in front of the palace. Even as I write, protesters are parading in front of the Sheraton. I will post pictures as soon as I get them loaded, but am now off to the University to see what is happening with the setup of the Fab7.
www.fab7.pe
for more info on that. S
11:16 am edt